They say it was probably a baby timber rattlesnake that nearly made a Franklin man lose his finger. Look. At. That. Finger!
Austin McGee told FOX 17 he's never even seen a rattlesnake near his Franklin home.
"It was just kind of a freak accident," said McGee. "I honestly never thought that a rattlesnake bike wasn't that big of a deal." Austin never saw the snake that bit him.
"I heard something, it sounded like a faint little rattle," said friend Noah Hammer. "Must just be a bug or something because it wasn't that loud. There was a bunch of metal right here so I reached down to pick it up," McGee explained. "It didn't hurt real bad, just like getting stung." Even though doctors say he'll make a full recover, this quote from Austin freaks us out.
"It was like throbbing, it was beating with my heart every time." The TWRA has this information about poisonous snakes in TN.
The Timber Rattlesnakeis is the largest, and the most dangerous, of the 4 venomous snakes in Tennessee; it occurs across the state.
The timber rattlesnake is often used by Pentecostal snake handlers during religious services.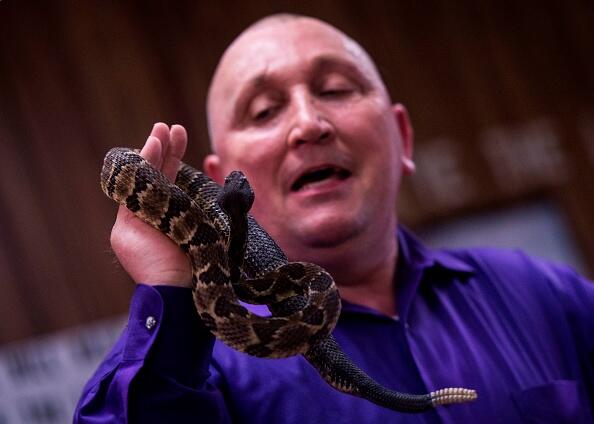 According to Wikipedia...
Practitioners believe serpent handling dates to antiquity and quote the Gospel of Mark and the Gospel of Luke to support the practice:
And these signs shall follow them that believe: In my name shall they cast out devils; they shall speak with new tongues. They shall take up serpents; and if they drink any deadly thing, it shall not hurt them; they shall lay hands on the sick, and they shall recover.(Mark 16:17-18)
Behold, I give unto you power to tread on serpents and scorpions, and over all the power of the enemy: and nothing shall by any means hurt you. (Luke 10:19)