There's one angry customer who refused to pay for a 24k gold covered steak he never ordered at one of Salt Bae's restaurants.
Salt Bae (above) is a restaurateur and chef who is super Instagram famous and became infamous when his way of salting meat (hold salt in his fingers high in the air, letting salt drop to his forearm, and then onto the food) became a meme. His restaurants are known as places to be seen for the ultra sexy, get pictures for the Gram, and they are notoriously expensive.
But a Florida man, who was ok paying the usually high prices, was not willing to pay for the humongous Tomahawk ribeye covered in gold that he says he never ordered. Those ribeyes are priced at $2,000 each. The restaurant claims he ordered 2 of them, along with a $1,000 gold plated rack of lamb!
The diner, Duane Miranda, was at the Miami location of Mr. Bae's Nusr-Et steakhouse. He had no problem with SOME other high priced items on the bills for his party:
Tito's martinis ($56)
Casamigos Reposada tequila ($27)
two Glenfiddich 12 Year Old scotches ($52)
two Grey Goose martinis ($56)
Don Julio Blanco tequila ($25)
bottle of 2017 Caymus Cabernet ($275)
5 bottles of water ($50)
He told the Miami Herald that he did order the steaks and lamb, but just the poor man's version (no gold) that cost $275 and $210 respectively. When they arrived covered in gold, he thought that was how they always came at this acclaimed restaurant.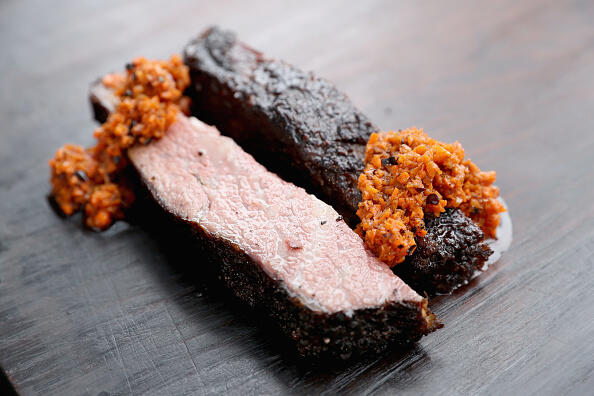 When Miranda disputed the bill and said he wouldn't leave until they took off the charges for the gold plated items, management called the cops on him.
After cops tried to resolve the issue, he agreed to pay the bill. But he's having American Express dispute the bill.
He wrote a Yelp review. In the review, Miranda says "communist loving, piece of crap," and he believes the waiter was trying to take advantage of them. He also said "apparently, [Nusr-Et Miami] have contacted law enforcement 11 other times over billing disputes since the opened less than 2 years ago." Police reports confirm he's right about the other disputes.
He went to say on Yelp:
"I will make it my mission to expose these pieces of crap for what they are."