The bad news is there's no hockey (or other sports). The good news is that our Nashville Predators won the Stanley Cup a few days ago. It was a virtual Stanley Cup, but they won according the The Hockey News. They simulated everything on EA Sports' NHL20 video game. In the simulation, the Preds barely got into the playoffs (this is completely in line with real life as the Preds were in that position when things stopped). And they were on an upswing.
Then the Preds went on a run!
Unlike they way things were going IRL, our iconic goaltender Pekka Rinne returned to form and carried the Predators all the way. In the simulation, he helped the Predators all the way to the Promised land.
Ang get this. In all three series leading up to the finals, Nashville swept their opponents.
Just like our last run to the finals, they beat the favorite in the opening round.
Nashville Predators – 4
St. Louis Blues – 0
Then another sweep in round 2 against a division rival.
Nashville Predators – 4
Colorado Avalanche – 0
In the Western Conference finals, Pekks was amazing and got help from Ryan Johansen who chipped in with 5 goals.
Nashville Predators – 4
Calgary Flames – 0
In the Eastern conference, the damn Penguins made to the finals. But this time the Predators turned the tables from 2017 and won it all in six games!
Nashville Predators 4
Pittsburgh Penguins 2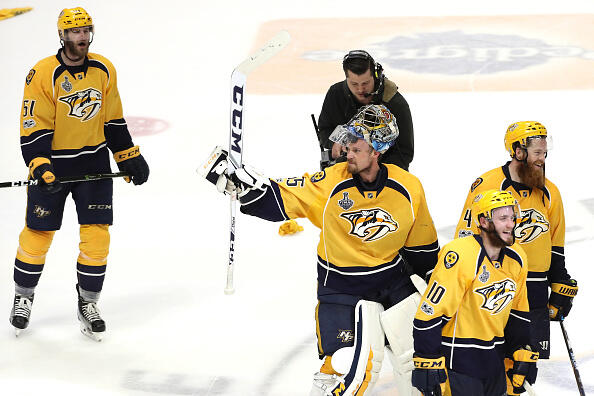 Playoff Scoring Leaders
T1. Evgeni Malkin, PIT (8-13–21)
T1. Sidney Crosby, PIT (7-4–21)
3. Steven Stamkos, TBL (8-11–19)
T4. Nikita Kucherov, TBL (9-9–18)
T4. Jason Zucker, PIT (8-10–18)
6. Ondrej Palat, TBL (1-14–15)
T7. Patric Hornqvist, PIT (9-5–14)
T7. Ryan Johansen, NSH (8-6–14)
T7. Viktor Arvidsson, NSH (6-8–14)
T7. Filip Forsberg, NSH (5-9–14)
T7. Calle Jarnkrok, NSH (5-9–14)
T7. Bryan Rust, PIT (3-11–14)
T7. Brayden Point, TBL (2-12–14)
T7. Kyle Turris, NSH (2-12–14)
Playoff Goaltending Leaders
1. Pekka Rinne, NSH (16-2, 3 SO, .947 SP) ⬅️‼️ 🔥
2. Mike Smith, EDM (3-4, 1 SO, .933 SP)
3. Connor Hellebuyck, WPG (4-6, 1 SO, .927 SP)
4. Matt Murray, PIT (14-10, 3 SO, .927 SP)
5. Sergei Bobrovsky, FLA (3-4, 0 SO, .925 SP)